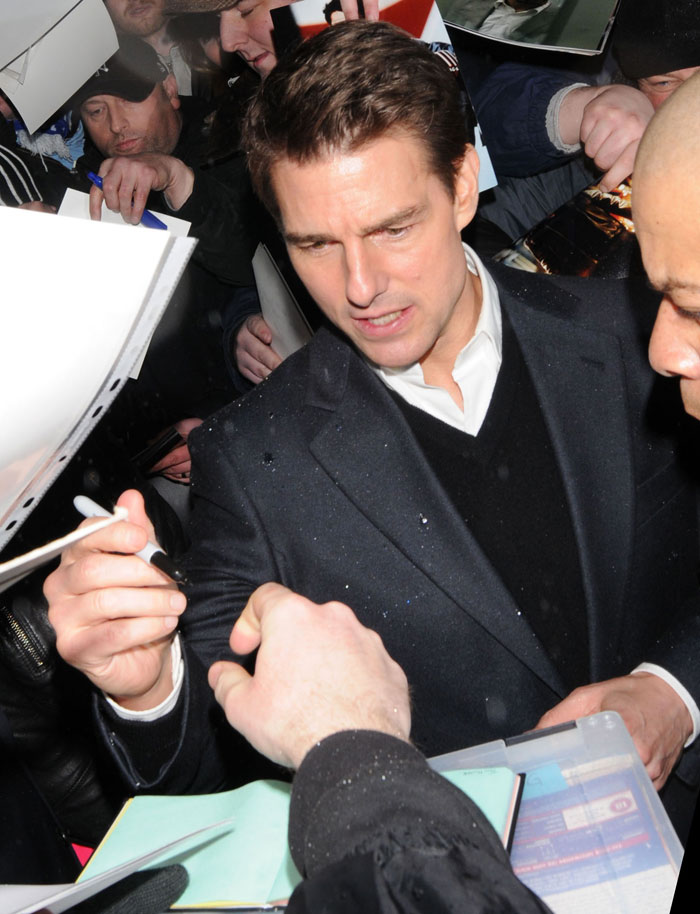 Here are some photos of Tom Cruise looking very important at a pre-BAFTAs dinner last week in London. I wish we had some new photos of Tom with his youngest daughter, Suri, but we probably won't see any pictures like that for years to come. That's because Tom has finally figured out our collective game of keeping track of when he sees Suri, and he realized that last year's four-month absence from her life made him look really bad. Hence the total lack of photos when Tom (allegedly) visited with Suri over Thanksgiving. How unfortunate.
The lack of Tom/Suri photos is also rather amusing because there has been no settlement in Tom's lawsuit against Bauer Media Group for Life & Style's story about how Suri was "abandoned by daddy" in the wake of Tom and Katie's divorce. To recap, Tom threw his lifts at the ceiling because L&S published the details of how he hadn't seen Suri (at press time) in over three months because he was in Europe (where he remains to this day) shooting a bunch of forgettable action movies. Tom always maintains that he calls Suri every day, and he believes that's good enough for a flourishing daddy-daughter relationship. The thing is (and I know I've said this before), I don't think that Suri has really noticed much of a difference since the divorce (other than Katie not going to Disneyland and such). Especially for the last few years of theat ill-fated marriage, Tom was never around, and Katie and Suri were usually on their own in New York. The main difference now is that Katie is allowed to go places (without having to ask her Scientology handlers' permission to do so), so we're now seeing the evidence of a very strong mother-daughter bond on the streets of Manhattan. And as always, Tom is missing in action while being gross and raving in London nightclubs.
Anyway, Tom is still suing Bauer for $50 million plus punitive damages, and he's insisting upon a jury trial. The initial lawsuit filing (hilariously enough) claimed that "plaintiff is not a litigous person," but Tom was making an exception here because of Bauer's "vile and reprehensible" conduct. Of course, the plan was that Bauer Media would roll over and offer a settlement, and then Tom would be vindicated as the BEST DADDY EVER. That hasn't happened, and now the case is moving into the discovery process and looking ahead towards trial. On Thursday, a full Joint Rule 26(f) document (which is filed jointly by both sides as a discovery plan) was filed with the court. The full document is available here, but here are the major highlights: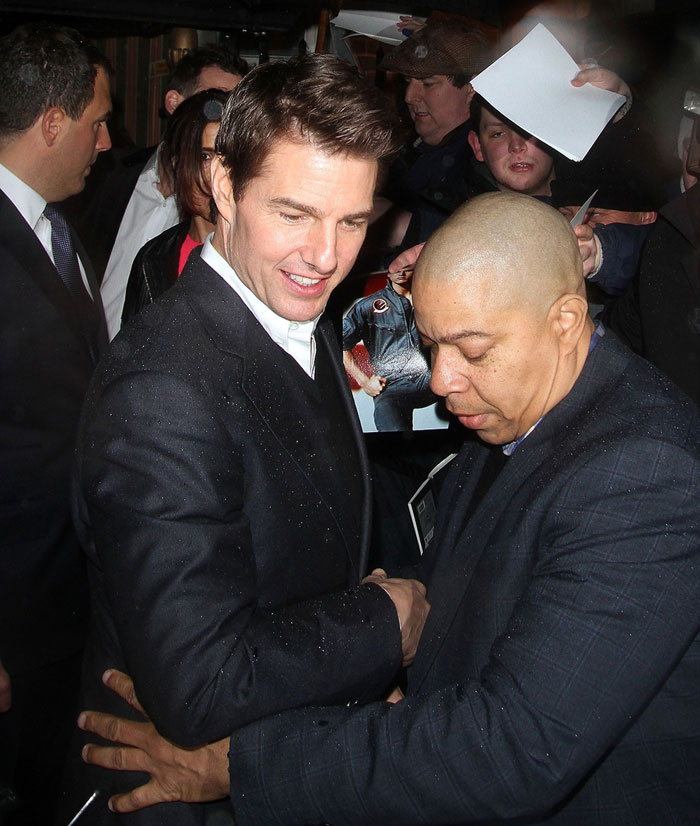 Here are some of the things that Bauer Media, represented by attorney Alonzo Wickers, is seeking:

* The extent to which Cruise was in contact with Suri following his separation and divorce from Katie Holmes.
* The expectations for Cruise's contact and visitation schedule with Suri and the terms of the divorce agreement.
* The role that Cruise's membership in the Church of Scientology played in his decisions regarding his visitation and communication with Suri.
* Suri's mental and emotional state following the separation and divorce.
* Cruise's claim and litigation history.

On that last point, at the time of the filing, Cruise lawyer Bert Fields said: "Tom doesn't go around suing people. He's not a litigious guy. But when these sleaze peddlers try to make money with disgusting lies about his relationship with his child, you bet he's going to sue."

Bauer also is seeking to depose Aaron Moss, another of Cruise's lawyers, which the attorney is resisting.

Not to be outdone, Cruise has his own discovery demands. Some of the things the plaintiff is seeking:

* The identity of the magazine's sources and communications with those sources.
* Bauer's policies and practices with respect to obtaining information, paying for sources, verifying the credibility of sources with whom the writers and editors haven't spoken.
* Bauer's practice of publishing stories about Cruise.
* Bauer's history of bigotry and hatred toward minority religious groups and their members.

According to a document filed Thursday, Bauer will attempt to exert journalistic shield privileges to protect the identity of its sources.
[From Hollywood Reporter]
Naturally, Tom's lawyer has accused Bauer of "bigotry" because Tom is somehow trying to frame himself as a "minority" since he's a Scientologist. Never mind that Tom's religious persuasion really should have nothing to do with whether or not he had "abandoned" Suri. This really is going to be a total sh-tshow if the trial ends up happening because Tom is just using the standard Scientology scare tactic of filing legal papers to scare his opponent. Where the CO$ is concerned, nothing ever goes to trial because there are so many threats and incidents of harassment (see Operation Snow White) that the other party (either private or governmental) usually ends up just dropping everything. Tom wants this case to settle, and he's probably freaking out that it has reached the discovery phase.
The Hollywood Reporter further notes that a trial would be projected to last for five days, and the next motions are due by Feb. 28. So I guess we'll find out more stuff soon. Since this is a libel case, Tom would have to prove that the Life & Style is false in order to win. The major irony here, of course, is that Tom would be willing to spend five days in a courtroom to prove what a great father he is, when really, all he needs to to is (you know) actually spend time with his daughter. Good luck with that, Tom.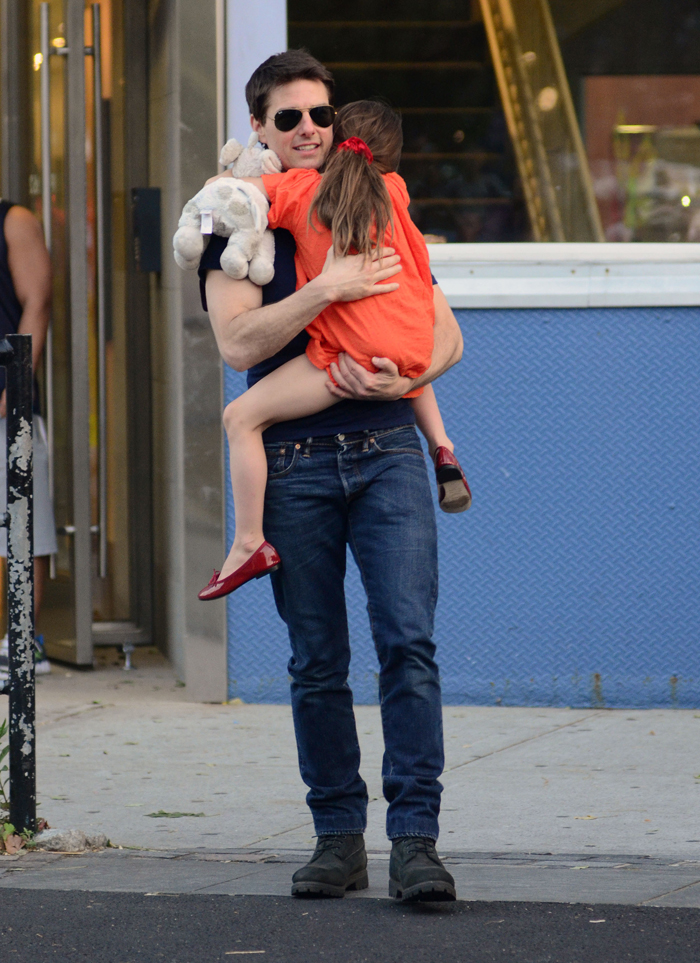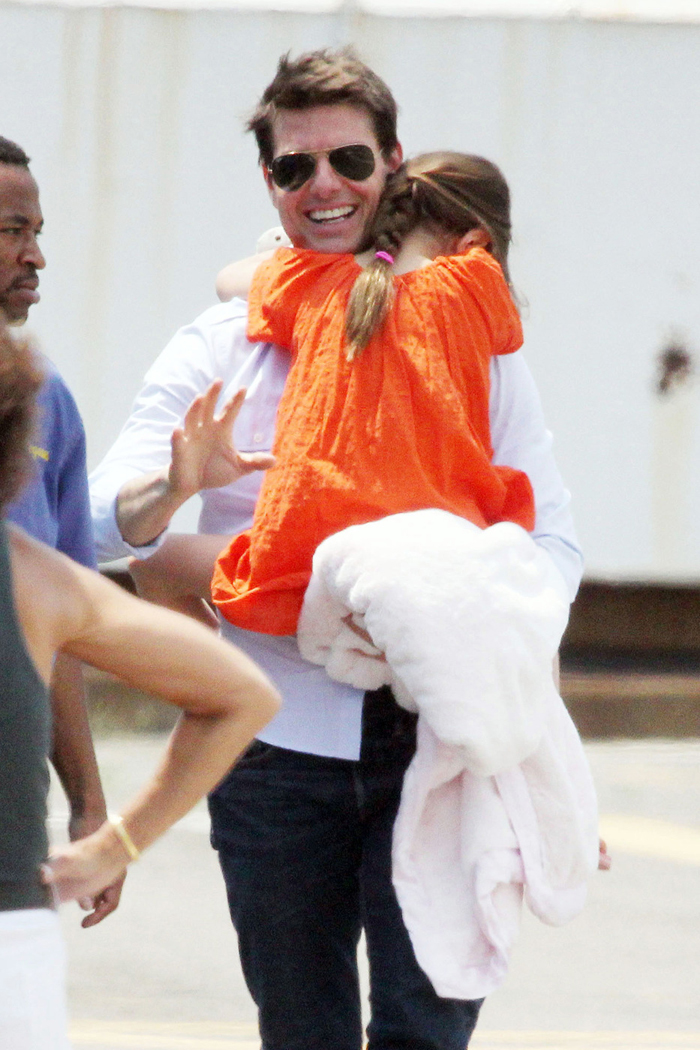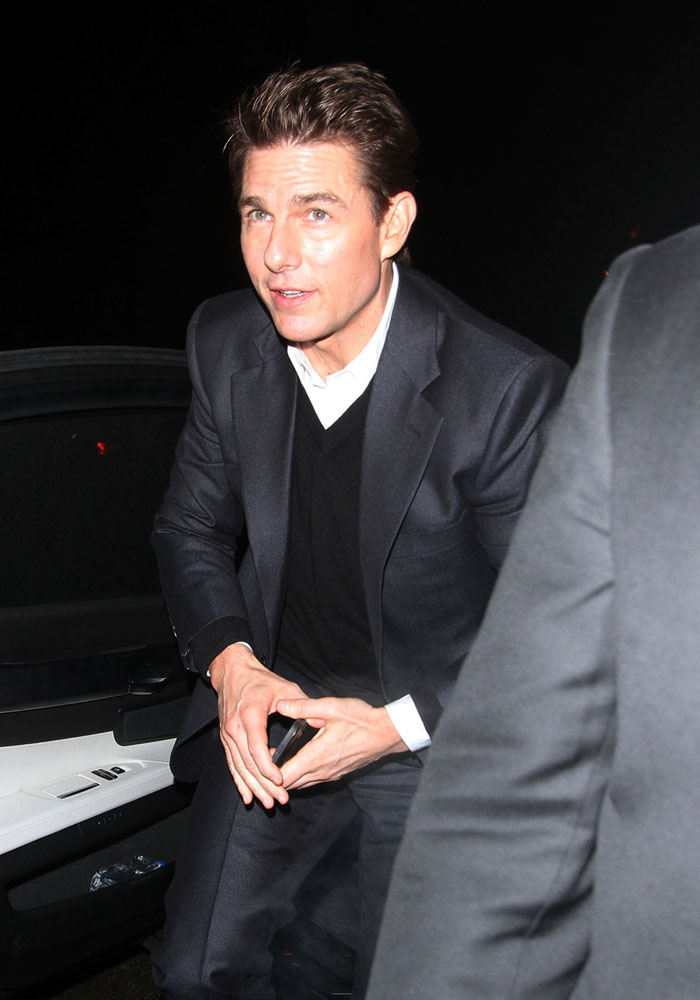 Photos courtesy of Fame/Flynet, Pacific Coast News, and WENN