Emma Stone on pressure: 'I'm not going to try to control what people think of me'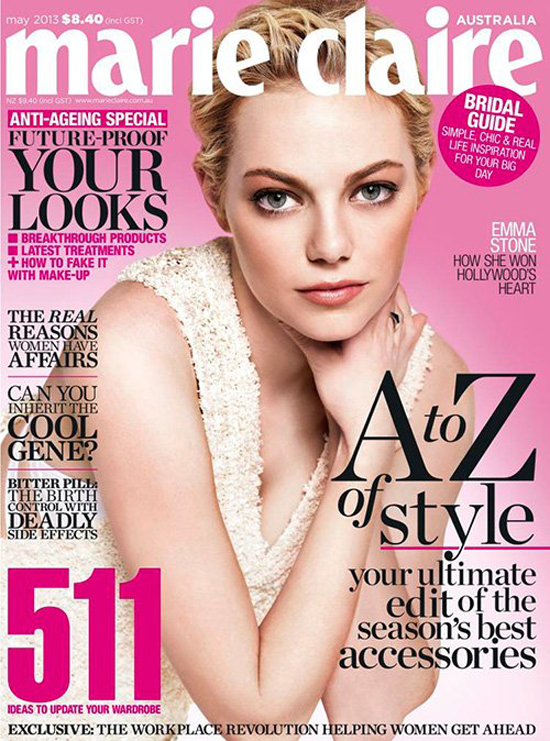 Emma Stone covers the May issue of Marie Claire Australia to promote her role in The Croods, which features her voicework as a teenage Neanderthal who falls in love with a slightly more evolved humanoid voiced by Ryan Reynolds. It's a pretty cute movie for very young kids, and voicework is where it's at these days. Emma looks quite beautiful on this cover even if the styling is a bit bland, but one doesn't expect dramatic fireworks from Marie Claire. I think Emma's got the most gorgeous face, she has followed the typical Hollywood starlet routine of losing a fairly drastic amount of weight over the past few years. I suppose almost anyone would cave to the pressure, but I wanted something different for Emma. In this interview, Emma talks about how she doesn't cave to pressure, which I guess is open to interpretation. Here are some excerpts: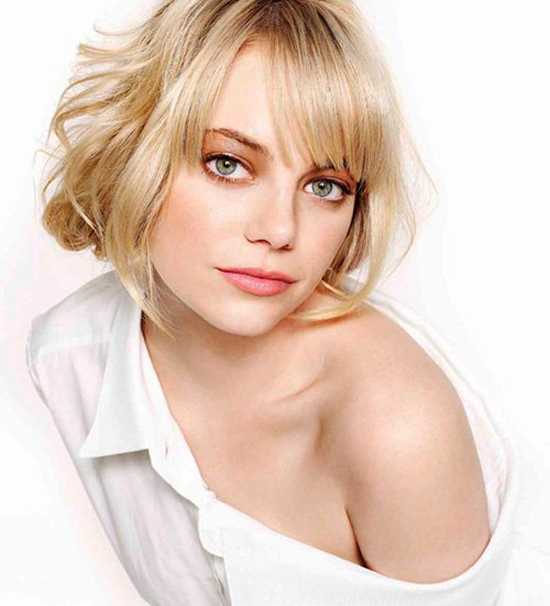 On the pressure of Hollywood: "For a long time, I didn't get worried about being boxed in. And then I started thinking about it too much, and then it scared me. And now I'm just trying to let go of it, and realize that whatever my path is going to be, it's going to be. I'm not going to try to control what people think of me."

On moving from Los Angeles to New York City: "I really miss my friends in LA a lot and the weather. But my lifestyle is really different in New York. People there work in lots of different industries, whereas in LA everyone is kind of related to entertainment — you know what you're going to get if you go to that city."

On her past decade of work: "I don't regret anything, because everything that I've done has got me to where I am now and obviously it couldn't have been any other way, and it wasn't any other way. That's how it happened. So I don't regret a thing, but I've learned. And now I'm trying to grow."
[From Marie Claire Australia
I must admit that I'm a little bit worried about Emma's career after her leading lady turn in Gangster Squad wasn't met with audience enthusiasm (not really her fault because the movie as a whole received poor reviews) even though she has the next Spider Man movie to pad her wallet for awhile. Oh, and she's still a spokesmodel for Revlon, so I guess she'll be fine. I do think that her geeky appeal wore thin after awhile, and she sounds like she got tired of playing the girl that always ends up making out with the dork in countless movies. Can't say I blame her for that one.
Here's some photos of Emma on the set of The Amazing Spider Man 2 in March.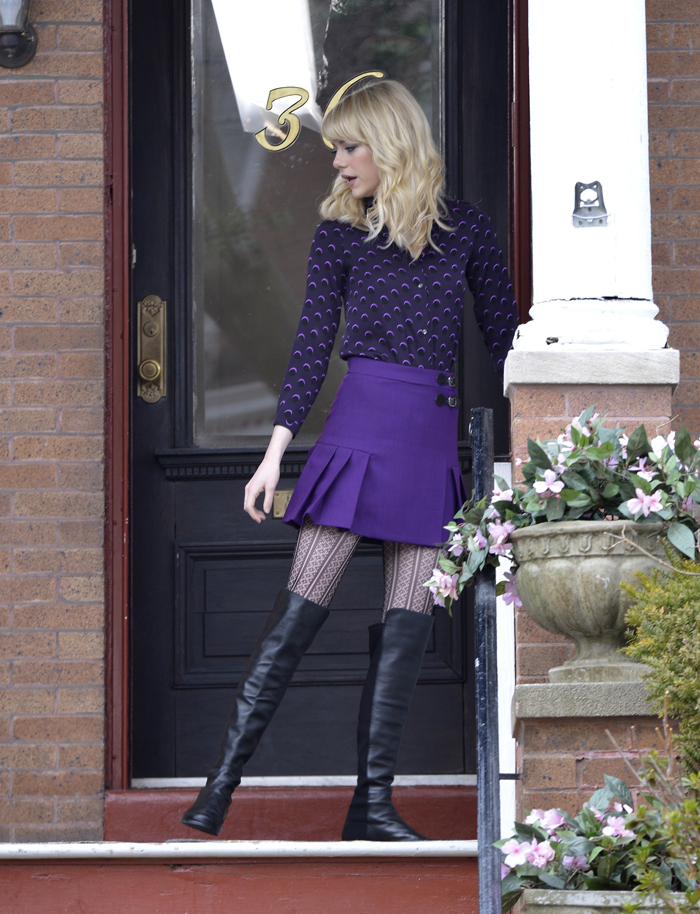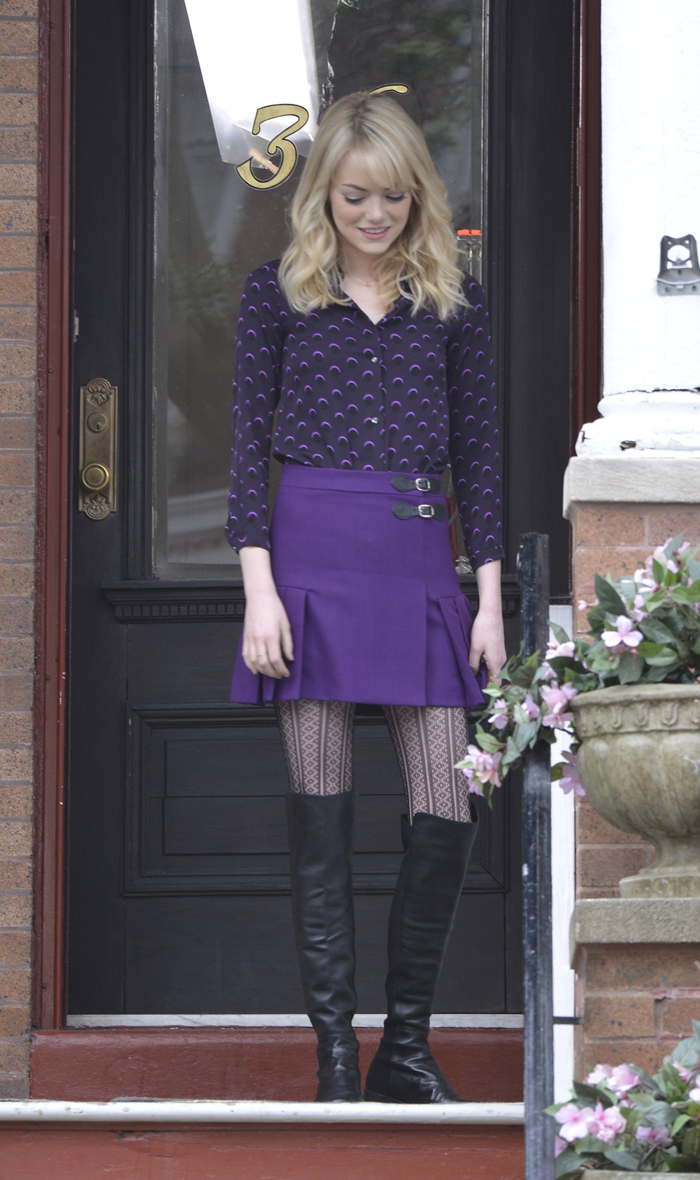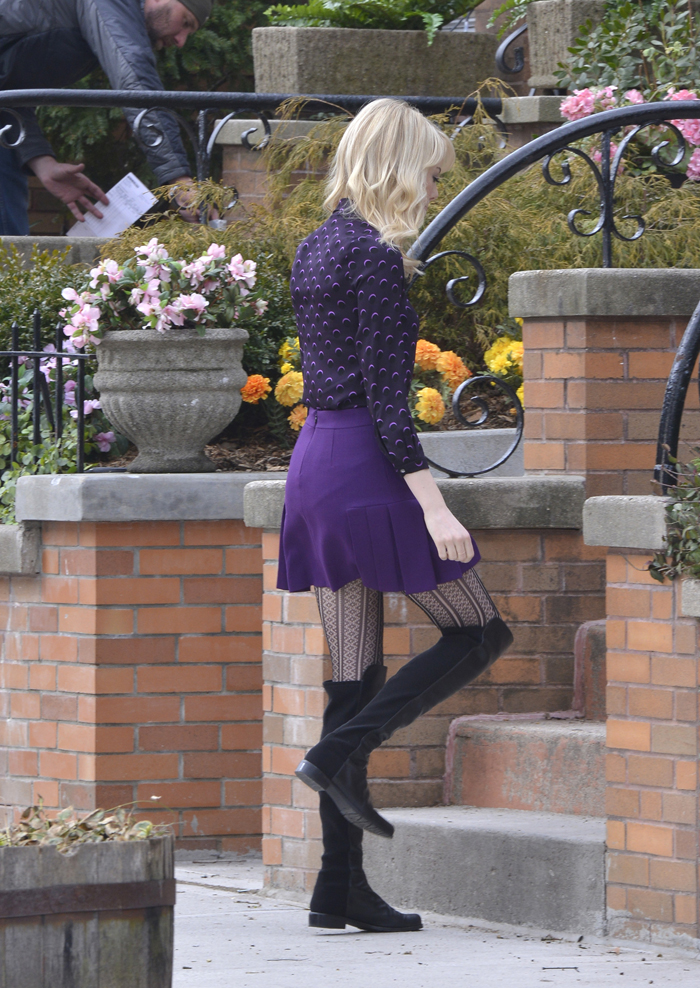 Photos courtesy of Marie Claire and WENN
Posted in
Emma Stone