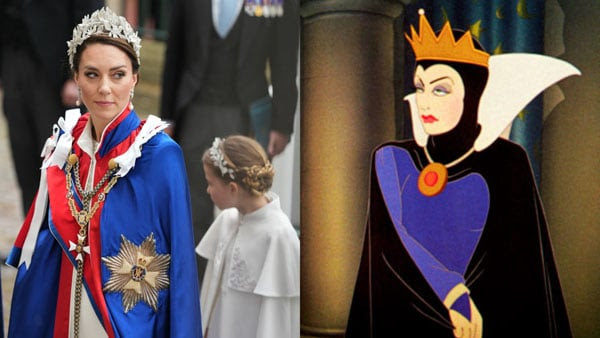 Introduction: Minutes 0 to 4:15
Hecate is leaving and we're sad about that. I watched The Sandman but it was more of a hate watch. Chandra loves Succession but watching it stresses her out. She's also watching tennis and is sad that Rafa Nadal is retiring. You can listen below!
Royals: The Car Chase: Minutes 4:15 to 15:45
This week Meghan and Harry went to the Ms. Magazine's Women of Vision Awards, where Meghan was honored. She wore a phenomenal strapless gold textured Johanna Ortiz gown and she looked rich and unbothered. Harry and Meghan looked loved up and gorgeous. They also visited a youth center in Santa Barbara earlier this week for Mental Health Awareness Month.
All of that is lead up to this disturbing story that Harry and Meghan were chased by multiple blacked out SUVs and motorcycles allegedly containing paparazzi when they left the Ms. event. They were pursued for over two hours, from about 10pm to midnight. A paparazzo said that the Sussex's vehicle was the one doing evasive maneuvers, but it's clear the paparazzi were driving dangerously and putting pedestrians at risk. Here's a link to the tweet I mentioned from the President of the NY Press Photographers Association. We wonder why the paparazzi were hounding Harry and Meghan, since there were already photos of them that night and there's no market for photos of them in a car afterwards. The Page Six report said that there were 12 paparazzi at first. A witness at the scene as they left the venue said it was scary.
It's upsetting how the press is trying to fact check and minimize what Harry and Meghan went through. A taxi driver who picked up Harry and Meghan at a police station and drove them around the block is being quoted as saying it wasn't that bad, essentially. He was only with them for ten minutes. NYC Mayor Adams similarly tried to downplay it. The Sussexes' spokesperson has said she's never seen them that vulnerable and a member of their security team, a former secret service agent, has said he'd never seen anything like this and that it could have been fatal. Some commenters have suggested that the Sussexes waited to release a statement on the incident so that they could see who would publish the photos. They were briefly published online in The Express and the Mail.
No one from the royal family has reached out to the Sussexes or contacted them to see if they're OK. The royal family has also refused to comment on this!
The Coronation: Minutes 15:45 to 24:30
The coronation was grim and weird. We were floored by some of the weird artifacts, like the bracelets of sincerity. Here's a link to that clip and here's a link to Chandra's tweet about it. We wonder why Charles was so miserable when this was supposed to be his big day. Camilla was smug and was smirking and William didn't memorize his lines. I tweeted a video of Charles bitching in the carriage about Will and Kate being late to the coronation. Here's a link to videos of him getting his little robes pinned on. He also seemed mad at the pages carrying the train of his robe after the coronation.
Will and Kate looked tired and mad like they fought on the way over. Someone told Omid Scobie that it was their children's fault they were late! That was their excuse to the press. After that they released a shaky behind-the-scenes fan cam video that was just terrible and hard to watch.
Kate wasn't given a tiara to wear and so she wore a headpiece made by McQueen. She also wore Diana's famous diamond-and-pearl earrings, but she wore them backwards. Here's a link to the tweet where I compared Kate to a Disney villain.
The whole coronation was excessive and Charles didn't even look happy. Plus there wasn't much interest and no one was talking about it in a few days.
We also heard that Camilla was going to work less as Queen. We think Diana would be living her best life if she was still with us.
Comments of the Week: Minutes 24:30 to end
My comment of the week is from Lucy2 on Peridot's post about Halle Bailey being so gracious about The Little Mermaid.
Chandra's comment of the week is from Becks1 on the post about Kate looking overjoyed in an appearance the day after Harry and Meghan were hounded by paparazzi.
Thanks for listening bitches!