James Franco photographed by Terry Richardson for GQ: gross or funny?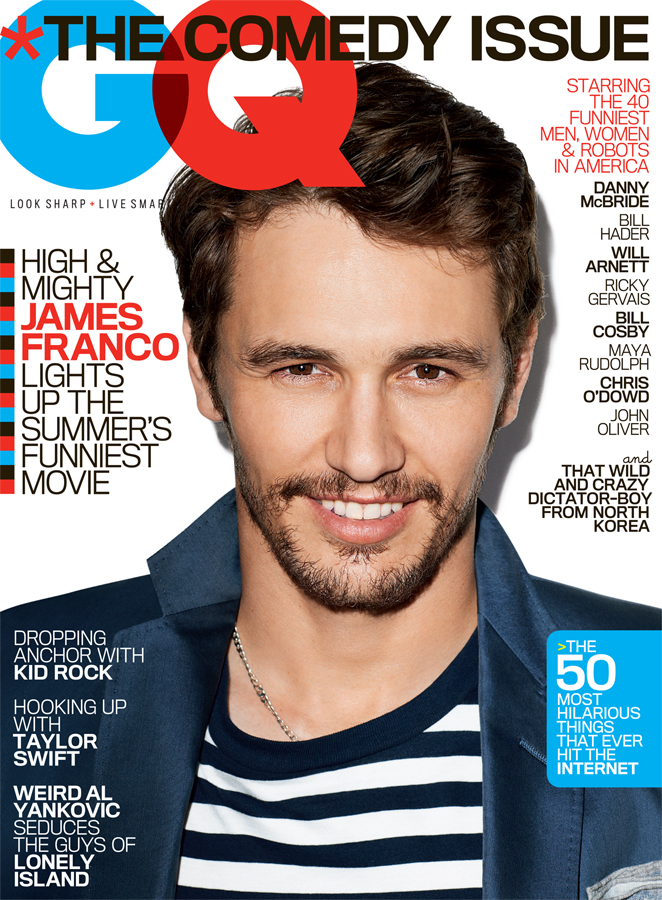 James Franco covers the June issue of GQ to promote his upcoming movie, This Is The End, which is some hipster movie that sounds like a wet dream to James Franco, artiste. If you haven't already seen the trailer that's been playing all over the place, the movie features James Franco playing a version of himself (whoever that is). In the film, "Franco" is hosting a Hollywood-type party that is attended not only by hipster favorites Seth Rogen, Jonah Hill, and Paul Rudd but also by Emma Watson and Rihanna. The party rages on for awhile, but then the apocalypse happens. It looks like the type of movie one might enjoy while stoned but never otherwise.
Anyway, Franco is photographed for GQ by none other than Terry Richardson. For those of you who wondered why Uncle Terry doesn't get pr0ny while shooting males stars such as Aaron Paul and Terry Richardson, well, James Franco is here to make up for that most grevious omission. Here, James gets a beej from a skeleton and offers up some excerpts about how the general public (that is, us, not him) is the real performance artist. Wait, what?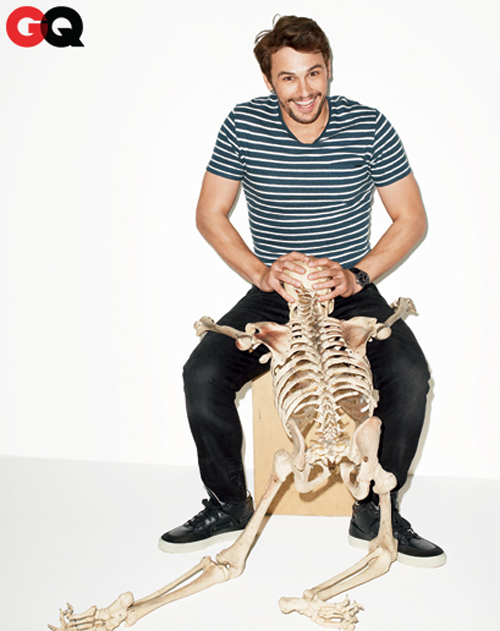 On James Franco, the man: "My public persona is something that is only partially constructed by me, so if people want to mock that, it's fine. I mock it."

He's not completely about high art: "Your Highness? That movie sucks. You can't get around that."

Will there be a Pineapple sequel? "As far as why Pineapple Express 2 has not been made for real, I don't know what the holdup is. I would do it, Danny [McBride] would do it, Seth [Rogen] would do it. I think Seth and Evan [Goldberg] just need a fire lit under their asses."

On his new movie: "When I first read the script [for This Is The End], the James Franco character was–I guess the only way to describe it is he was a lot douchier than the version that we came up with. I was the materialistic guy. They were really playing up the Gucci-modeling aspect of my life."

But what does it mean? "Like all comedies, even bad ones, [This Is The End] gets at important issues if you want to examine it."
[From GQ]
Honestly, I know that Franco is speaking in English, but I have no idea what he's talking about when he says that "James Franco" is not something that he continually and consciously manufactures with all of his talk of being a professor and simultaneously attending three universities all while holding down a fabulous career or directing and acting in both indies and blockbusters. He thinks we're the ones who dream this crap up? He's either terminally stoned or just f—ing with us all. Probably both. Oh, and don't get me started with how Franco is murdering a William Faulkner classic in the new As I Lay Dying trailer.
Look, doucheguns!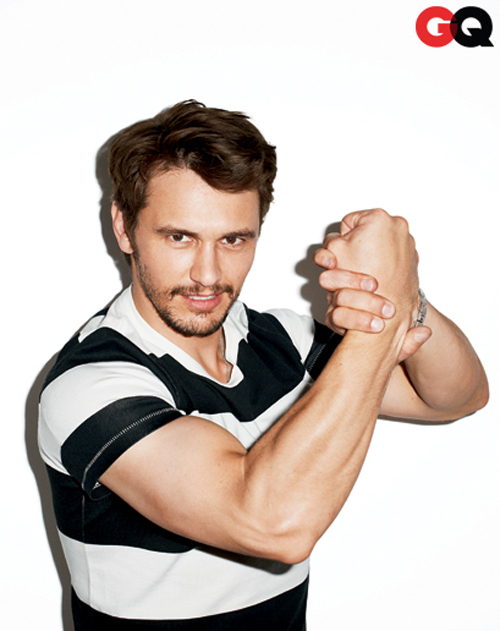 Photos courtesy of GQ
Posted in
James Franco
,
Terry Richardson