Khloe Kardashian: "I'm proud of myself… I'm pretty damn hot, if you ask me"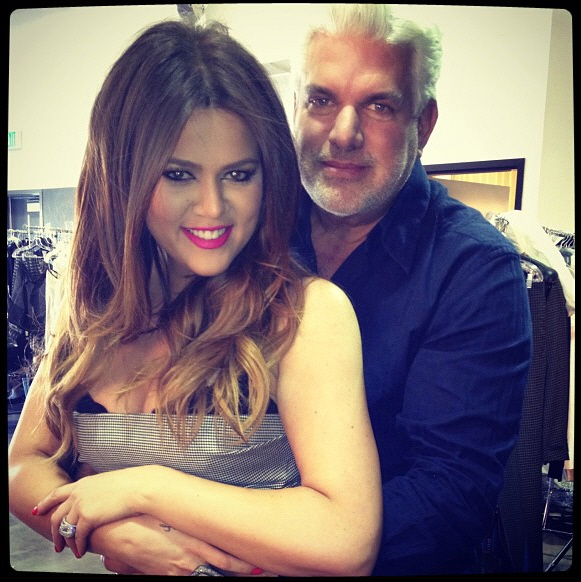 CB is going to be covering Kris Jenner's Today show interview momentarily, but I just wanted to select one little section of Kris's BS this morning. Back in January, there was renewed interest/focus/gossip surrounding Khloe Kardashian's mysterious paternity. Robert Kardashian's widow claimed in an interview that it was "common knowledge" around the Kardashian households that Khloe was not Robert's biological father. Khloe reportedly always had questions about it too, but when she got around to taking a half-assed DNA test, the only thing she proved was that she was her mother's biological daughter – she came from Kris Jenner, definitely, and she's not adopted. Since then, the paternity drama has died down a bit, although I think most people believe that there's a more than good chance that Khloe's biological father is one of Kris Jenner's old lovers, and perhaps even Kris's longtime hairdresser, Alex Roldan, seen in the header photo.
So, when Matt Lauer asked Kris Jenner about the paternity drama, Kris didn't blanch. Lauer asked if Khloe was planning on taking a DNA test to prove Robert Kardashian's paternity, and Kris claimed that the whole thing was "ridiculous" but that the family was urging Khloe to take the test anyway to put her mind at ease. Even though Kris has admitted to having at least one affair around the same time as Khloe's conception, Kris said that "Robert Kardashian. No doubt about it," is Khloe's father.
Meanwhile, Khloe has a new interview with E! News, and it makes me like her even more. She's defending her figure and her healthy body image, and… it just makes me feel bad for her. I like Khloe. I can't help it.
Khloe Kardashian's living the life—but the road to happiness and self-confidence hasn't been without its bumps.

"I was called fat all the time," she recalls in an interview with E! News' David Burtka airing today. "I've always been compared to my sisters, who are beautiful and who have always been."

Kardashian, who has spoken out against bullying and worked with the "It Gets Better" campaign, says that at 5 feet 10 at age 13 and with lighter skin than her sisters, she always stuck out.

"I feel like I was so attacked," Kardashian. "[I was picked on because] I had to wear braces, I was overweight as a kid, just for no reason."

Even to this day, adds the E! star and household name, she still gets treated like the ugly duckling.

"I'm called the fat sister…I'm called the ugliest Kardashian," she says. But the haters don't hurt her the way they used to. "I'm proud of myself. I could break and go get all this plastic surgery and get my nose fixed and get lipo or do whatever, but I haven't chosen to do that because I know I'm a great person. I'm pretty damn hot, if you ask me."

Regarding the still-rampant issue of bullying, Kardashian says that she would love it if kids could focus on "how many positives they have."

"Typically people get bullied because [the bullies are] afraid of that person," she observes. "There's a spark, a light, something that the bully doesn't have—and they're intimidated, so they want to attack you."

As for her fellow adults who may be witnesses to child-vs.-child bullying and who decline to step in, saying they don't want to interfere, Kardashian has no patience for such things.

"A lot of adults don't think it's their place to interfere with kids," she says. "I interfere all the time."
Yes, I had to stop making fun of Khloe's appearance at some point because, quite honestly, I think she has the prettiest, least jacked face of all of her sisters. And while Khloe's weight fluctuates a lot, I do think she's a body-image role model for taller, bigger, curvier girls.
Some new photos of Khloe out in LA yesterday. Ordinarily I would be yelling about horizontal stripes, but this dress kind of works on her.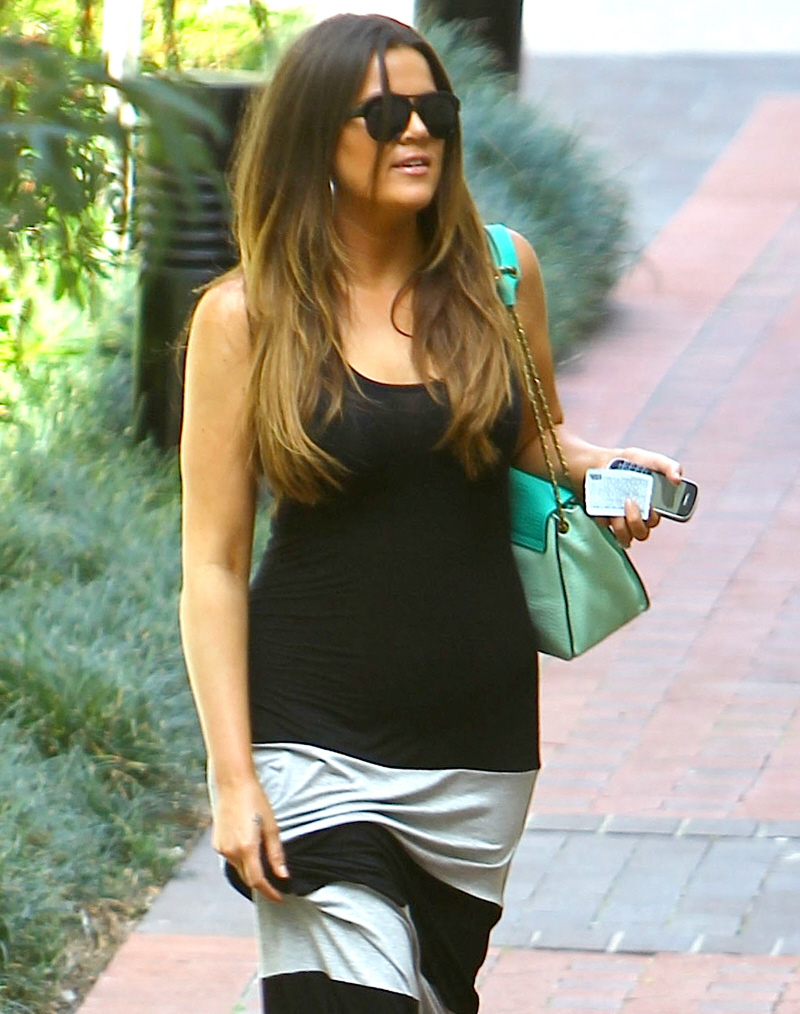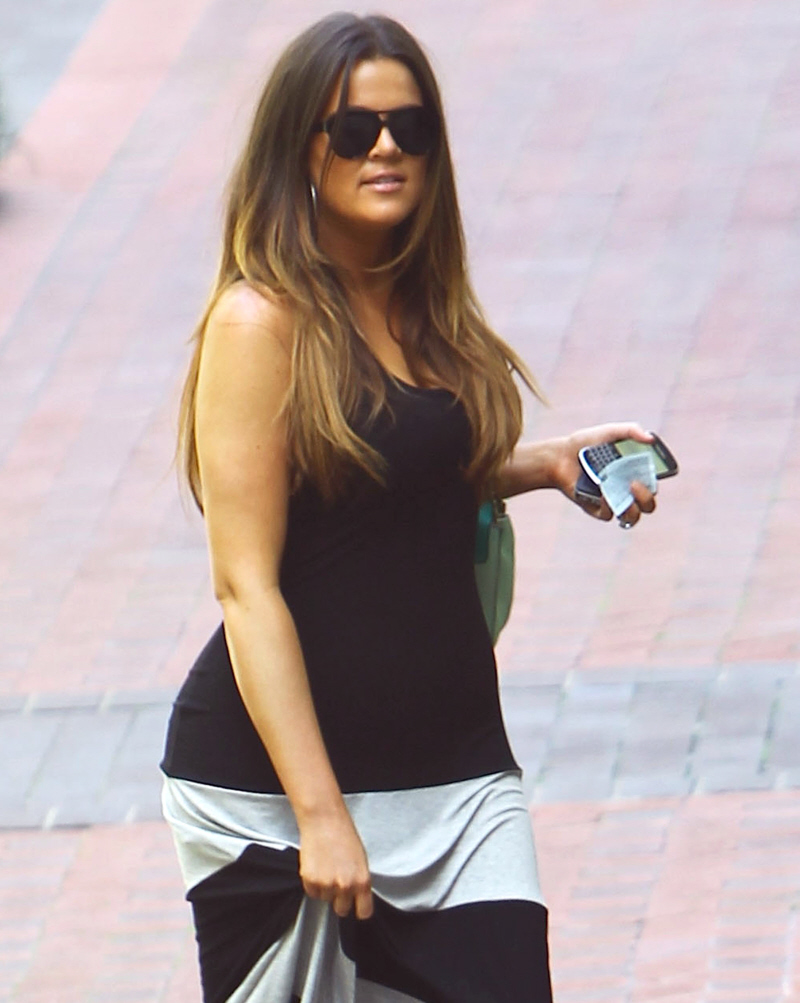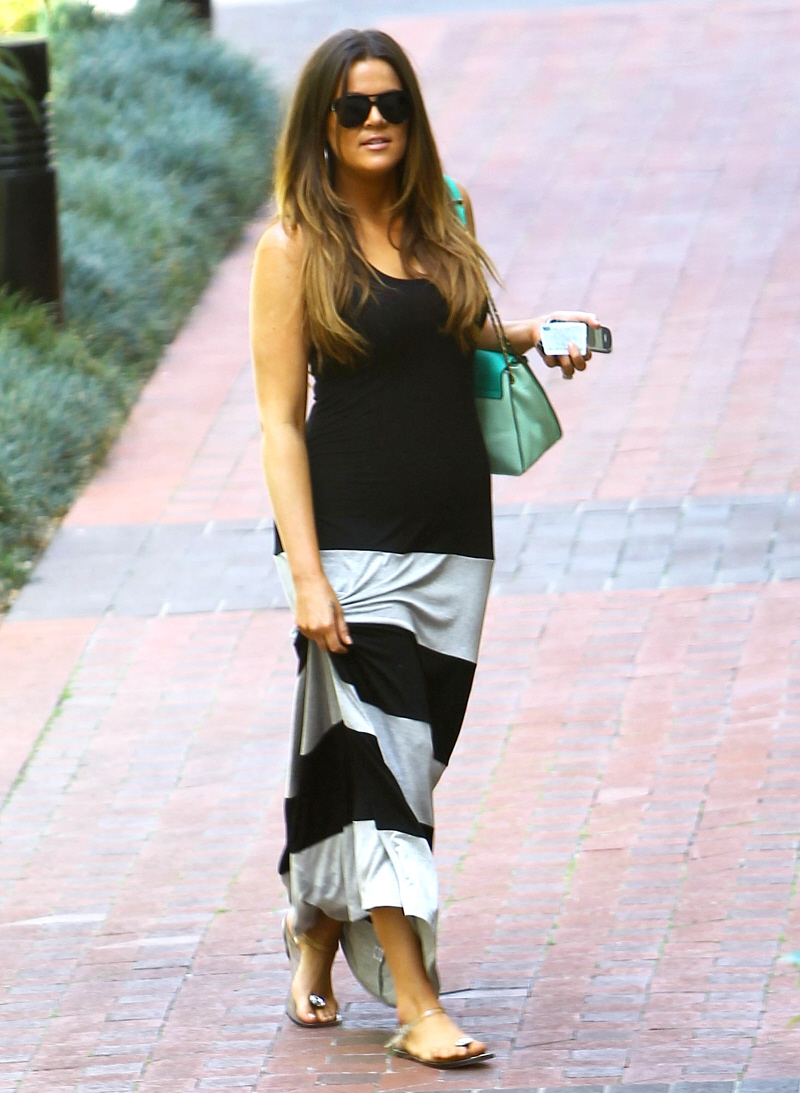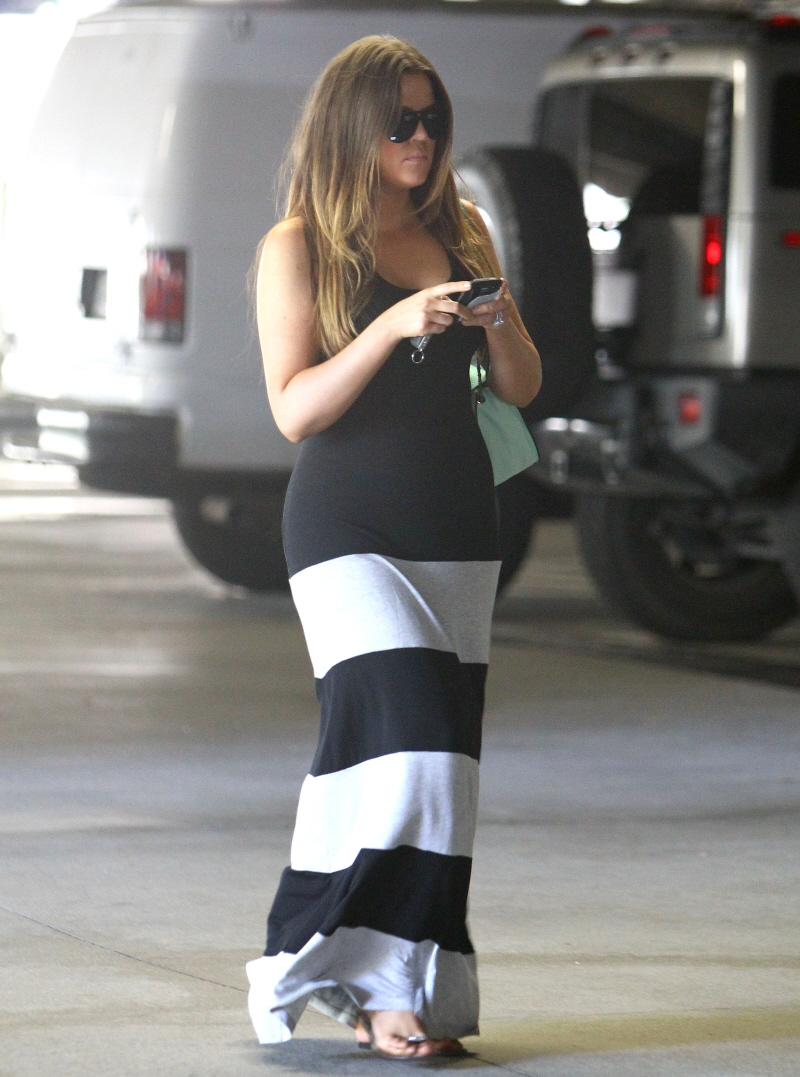 Photos courtesy of Fame/Flynet.

Posted in
Body image
,
Khloe Kardashian