Sarah Palin's 'fitness & self-discipline' book might be a dumb money-making hustle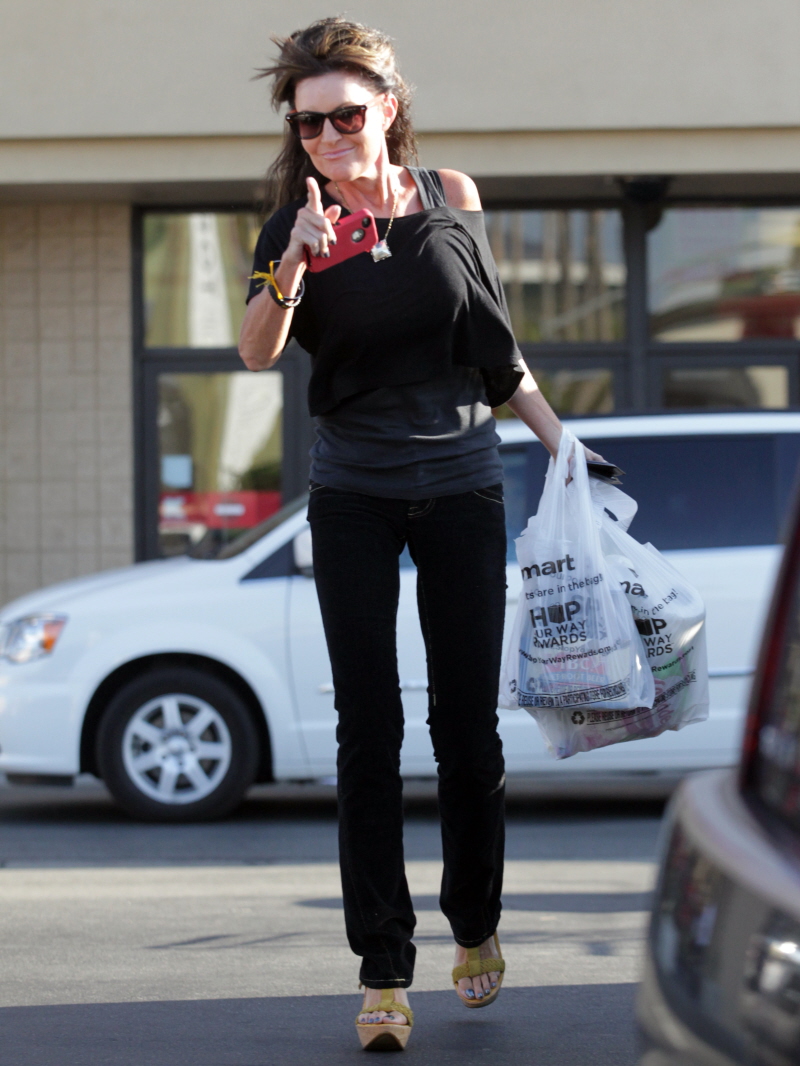 As we saw last week, Sarah Palin has become dramatically thinner all of a sudden. I wrote about the recent photos of her, noting her shrinking figure and asking what was going on with her. (Sidenote: in an awesome turn of events, Wonkette linked to that story! Hello, Wonkette! I'm a big fan.) Just hours after it seemed like everyone was all "Hey, what IS going on with Palin?" she issued an oddly-worded statement to People Magazine. Palin basically said that she was fine and that she's working on a book about "fitness and self-discipline." Which sounds sketchy. Now The Enquirer has the "scoop" on the weirdness that is Palin's self-discipline book. Basically, it's just a crack hustle to make money because Palin knows her Fox News contract won't be renewed?
There's a budding new fitness guru in town – former Republican vice presidential candidate Sarah Palin. Now that her political career has hit a brick wall, scary-skinny Sarah is hoping to turn an upcoming workout book into a fitness empire, which would include DVDs, workout gear, health food products and even a gym franchise, say sources.

But friends of Palin fear her extreme workout and diet regimen is threatening both her career and her health, as she's carrying just 93 pounds on her 5-foot-5 frame.

"Sarah's become a shadow of her former self and it's really alarming," a close friend told The Enquirer. "Her cheeks are sunken, her legs are pin-thin, and she has no hips. Her complexion looks leathery and her skin's hanging off her bones. She's even developed a turkey neck!"

According to the friend, Palin hatched a plan to launch her own fitness brand after realizing her $3 million Fox News contract as a political commentator probably won't be renewed.

"Not that long ago, Sarah would never have considered doing something like this. She was hoping to parlay her brief political ascension into a long-range career as a pundit and power broker. Now, Sarah's desperate to stay in the limelight and make money any way she can. It's sad… Sarah's dreams of a fitness empire will never become a reality if she stays a stick figure."
[From The Enquirer, print edition]
I had actually forgotten the Fox News thing – that was a big deal around the time of the Republican convention in August. Fox News pulled all of Palin's appearances on the network halfway through the convention, and media analysts describe Palin's contract renegotiations as "protracted" – which is media-speak for "Sarah Palin wants Fox News to give her a bucket of money and Fox News wants to shove her out the door." Palin's contract expires in January – my guess is that Fox News is waiting to see who wins the presidential election before they decide who they want on-air for the next few years.
As for all of the weight loss stuff… I still have no friggin' idea. And I'm offended on Katey Sagal's behalf that you keep comparing these Palin photos to Katey's Sons of Anarchy character.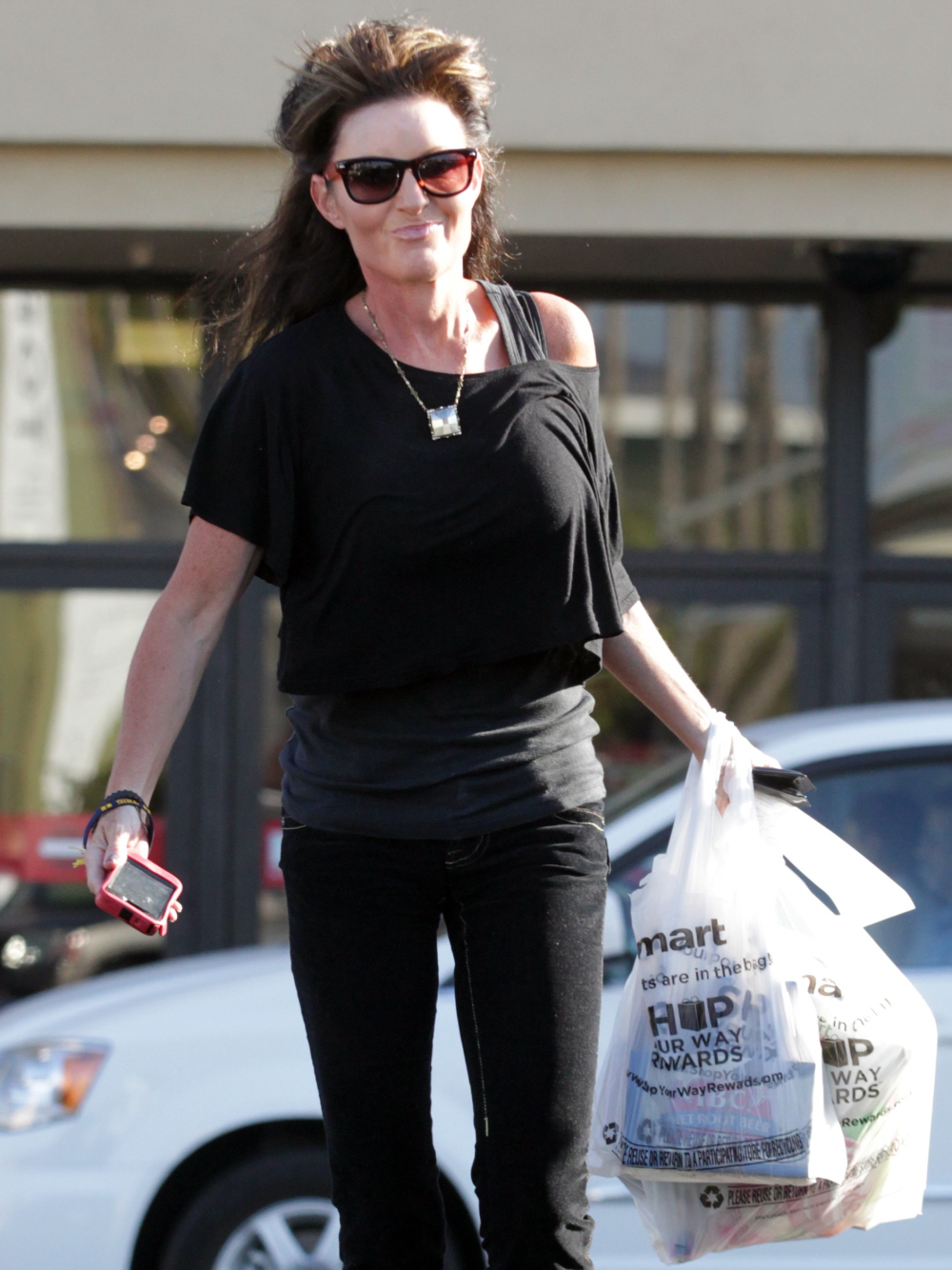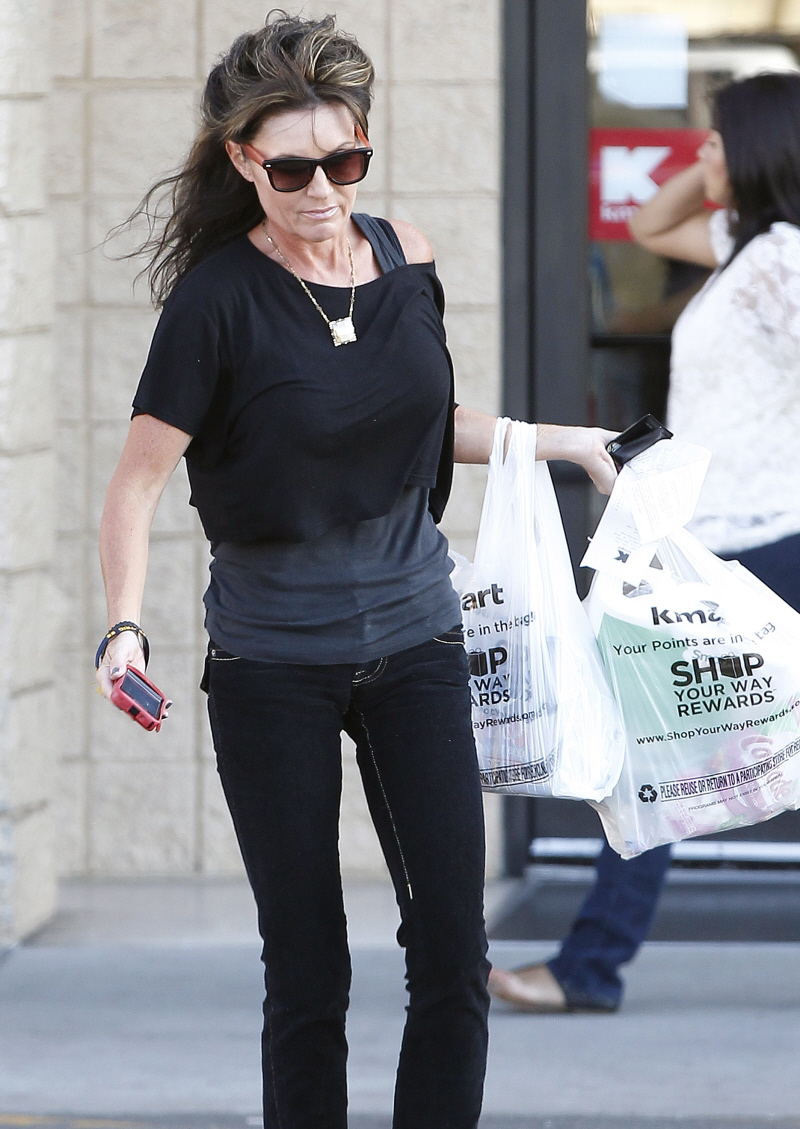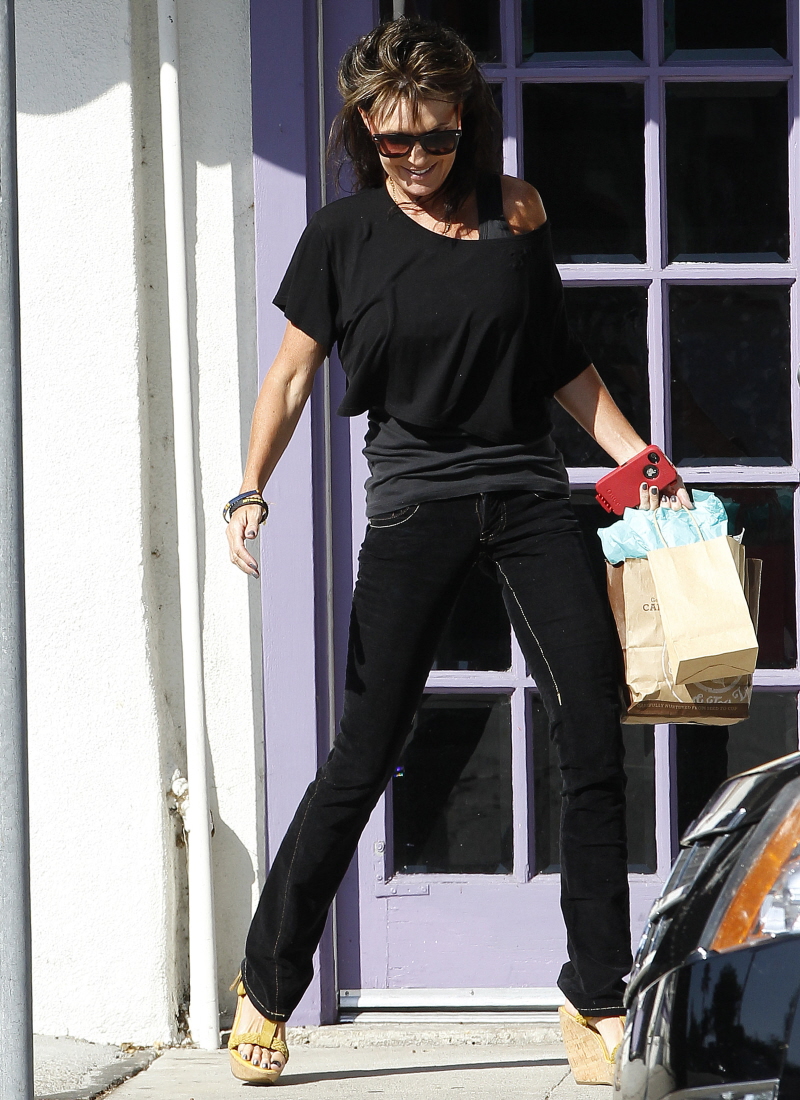 Photos courtesy of Fame/Flynet.

Posted in
Sarah Palin
,
Weight Loss