Tori Spelling doesn't plan on getting pregnant again, but 'you never know'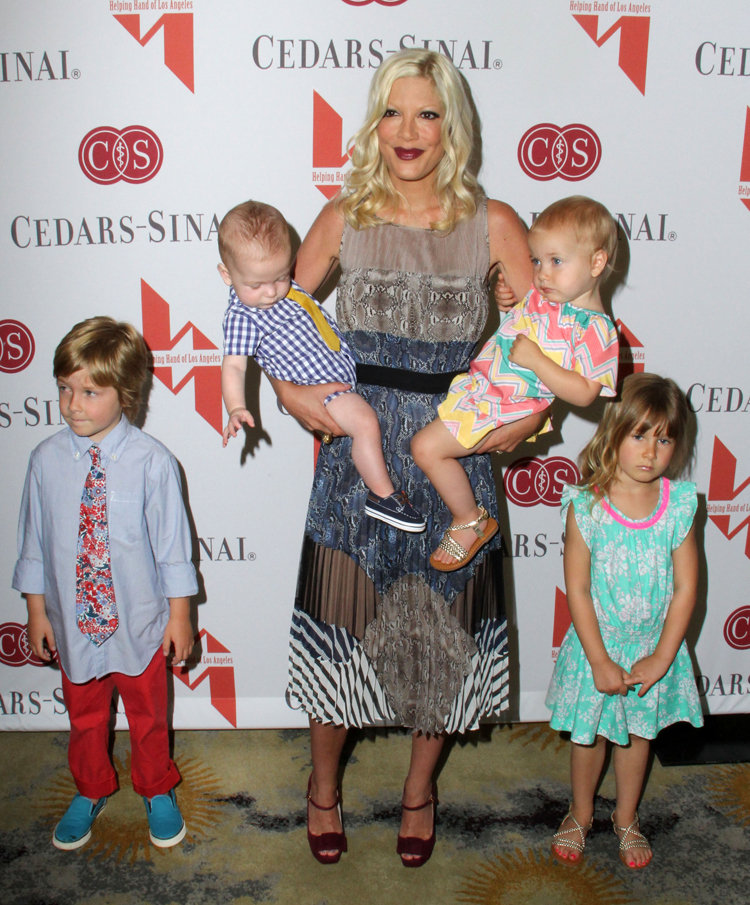 Here are some photos of Tori Spelling with her four kids (and Lea Porter, below) at a Mother's Day luncheon over the weekend. Don't your arms just ache at the sight of Tori holding both Hattie (19 months) and Finn (9 months) at the same time? Her poor body has been through so much after giving birth to four kids in the space of five years, and if I was her, I'd definitely close up the shop after the very rough pregnancy she suffered through with her youngest child … especially after she became pregnant again just two months after giving birth to Hattie. As a result of the quick turnaround and three prior c-sections, Tori suffered nine instances of "massive internal bleeding," which should scare any woman off any subsequent pregnancies. Seriously, ouch.
For her part, Tori tells Life & Style that she certainly doesn't plan on getting pregnant ever again, but it doesn't sound like she's sold on the subject. She does admit that she misses being pregnant and wants more kids, but I think she realizes her body has had enough. Hopefully, anyway: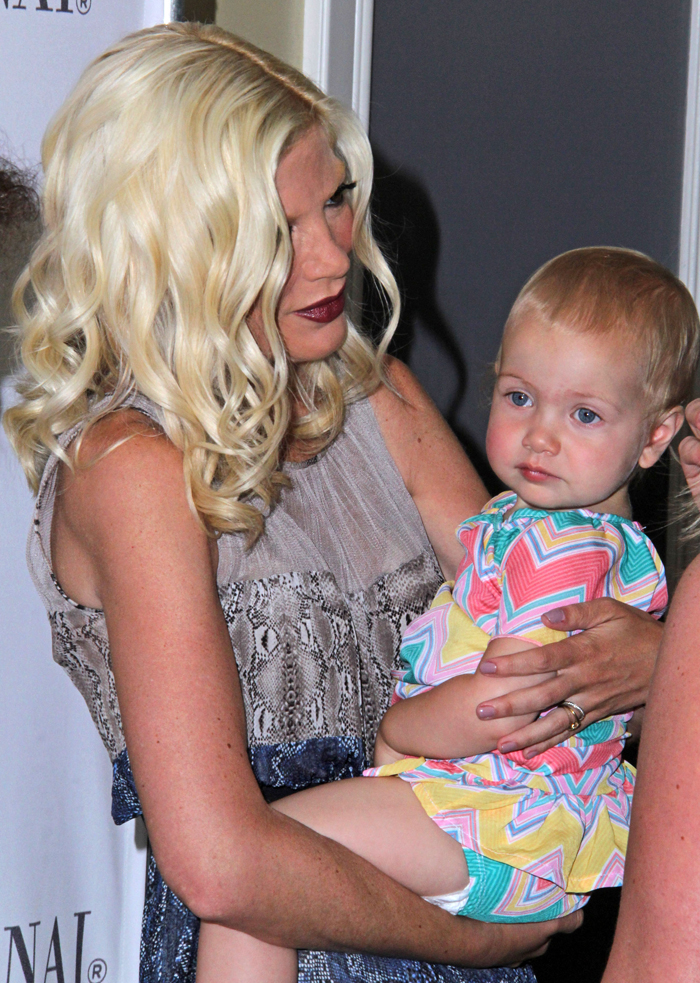 After four kids in five years, Tori Spelling is giving her body a permanent break. In a new interview with Life & Style, the former Beverly Hills, 90210 actress admits she's done getting pregnant.

"I'm not going to be going through another pregnancy," she told Life & Style at the Helping Hands of Los Angeles Mother's Day luncheon on Friday. "I don't plan on it."

In August, the actress faced life-threatening pregnancy complications when giving birth to baby boy Finn. She suffered from placenta previa, in which the placenta covers the opening of the cervix. The condition was likely caused from her previous C-sections she had with her three other children — Liam, 6, Stella, 4, and Hattie, 19 months — with husband Dean McDermott.

"After the pregnancy I went through with Finn, he will forever be my baby," she confides to Life & Style. Though she's decided not to have any more kids, the 40-year-old admits, "I'm sure I'm always going to want more because I love the whole feeling of being pregnant and having your babies."

The complications with Finn had her on bed rest for almost two months in the hospital last summer, which caused her to miss out on special family moments.

"I missed Liam's preschool graduation, Stella's 4th birthday party, Hattie's first word," she revealed on Good Morning America in December, adding, "With Finn, I definitely appreciate every second more with him."

As for adding onto her brood, Tori's not counting adoption out in the future. "Maybe. I have a such a full house right now – a happy house," she tells Life & Style. "I'm blessed with the four I have so I want to enjoy what I have. You never know what the future holds, but I'm happy at the moment."
[From Life & Style]
Okay, so it sounds like Tori's open to adoption, but I hope she and Dean are using some form of birth control (vasectomy, anyone?) to prevent any "accidents." Tori doesn't need another risky pregnancy because her kids need her to stick around for a very long future! She really does look like she loves being a mom.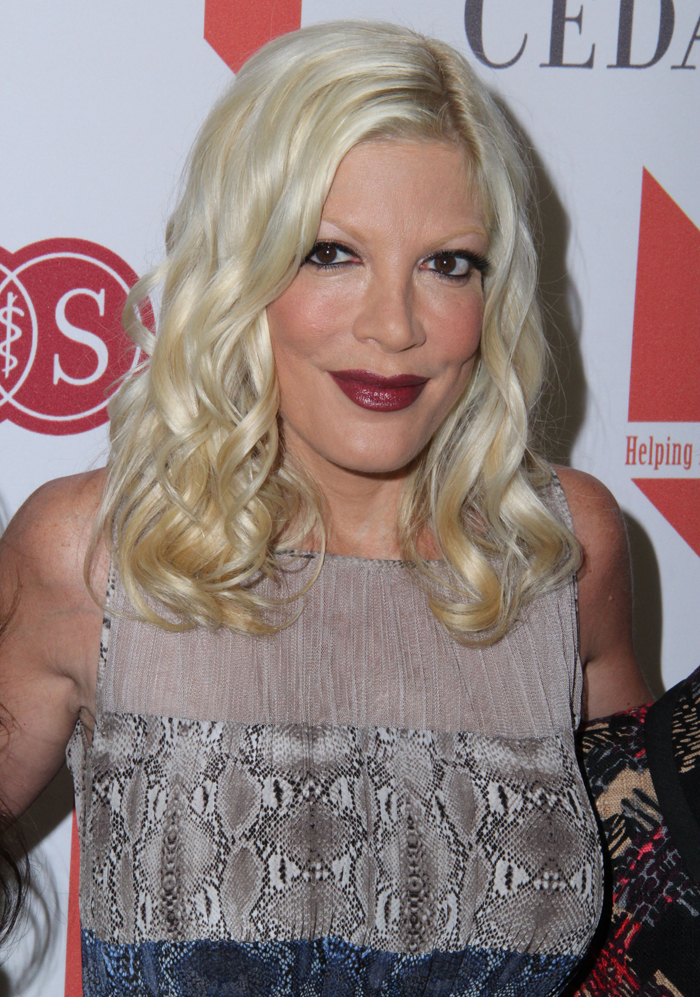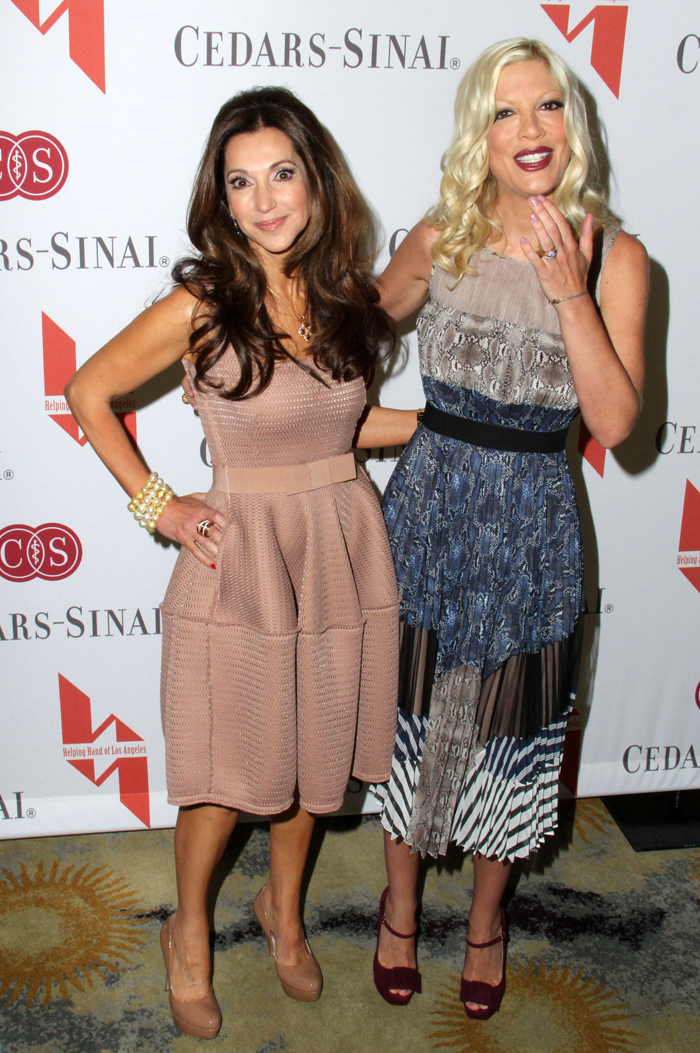 Photos courtesy of Fame/Flynet
Posted in
Tori Spelling