Is Suri Cruise starting her own fashion line? Katie Holmes says no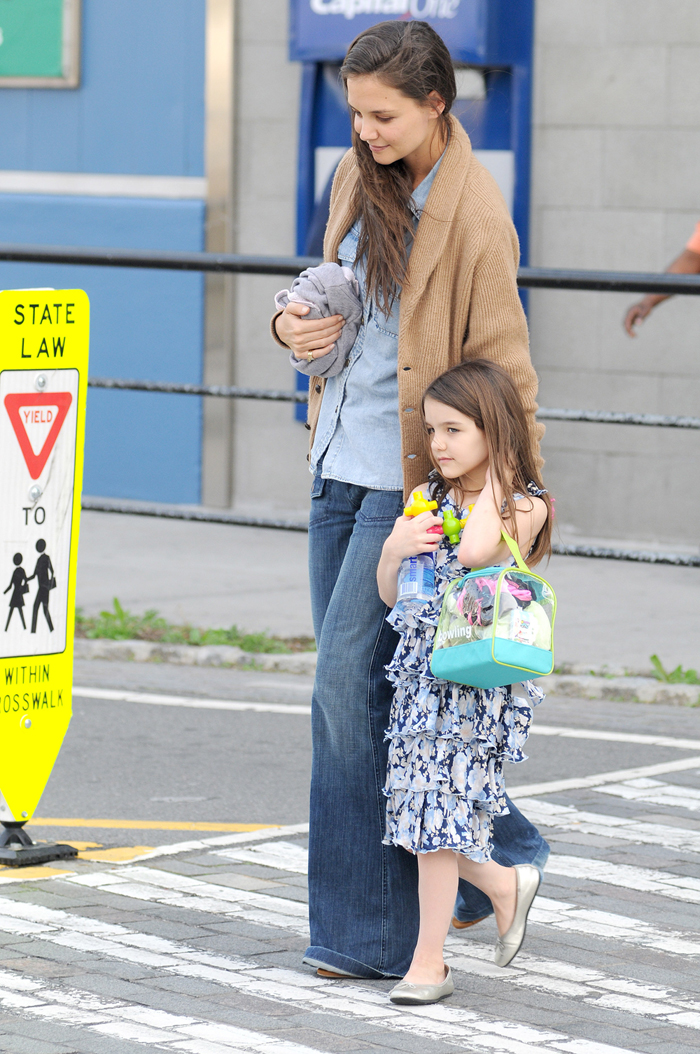 Before I get to the main part of this post, I wanted to briefly mention that there's an odd puff piece about Katie Holmes that popped up a few days ago in the New York Observer. The article talks up Katie's impact on the popularity of her apartment building, the Chelsea Mercantile, which has supposedly gone into huge demand in real estate circles after Katie and Suri took up residence there last summer in the wake of the TomKat divorce. The piece goes on to talk about how Katie's career is on fire, and it's no big deal that her big return to Broadway in Dead Accounts closed two months early because Katie's already back at work playing a bipolar poet in Spike Lee's new project, Mania Days. We shall see what happens.
Now for the weird, out-of-left-field story about Suri Cruise's supposed new fashion line for children. I'm labelling this an unexpected story because Suri has been keeping a low profile of late. She's been busy with school and both Katie and Tom Cruise (that is, if he's seeing Suri at all) have been keeping their child under wraps. I suspect that Katie is taking advantage of the Avenues school's underground parking garage, and the paparazzi in general have shown a lot less interest in Katie and Suri since the divorce story has cooled. That's a great development for Suri, by the way, since she seemed to be quite frightened of all those shouting men with flashbulbs. Anyway, the Sun has posted an odd ditty about 7-year-old Suri launching her own fashion line, and this tale is complete crap (Katie's rep has already denied the story to Vogue UK). But it's still worth a read if only for the excellent dig the Sun takes at Tom: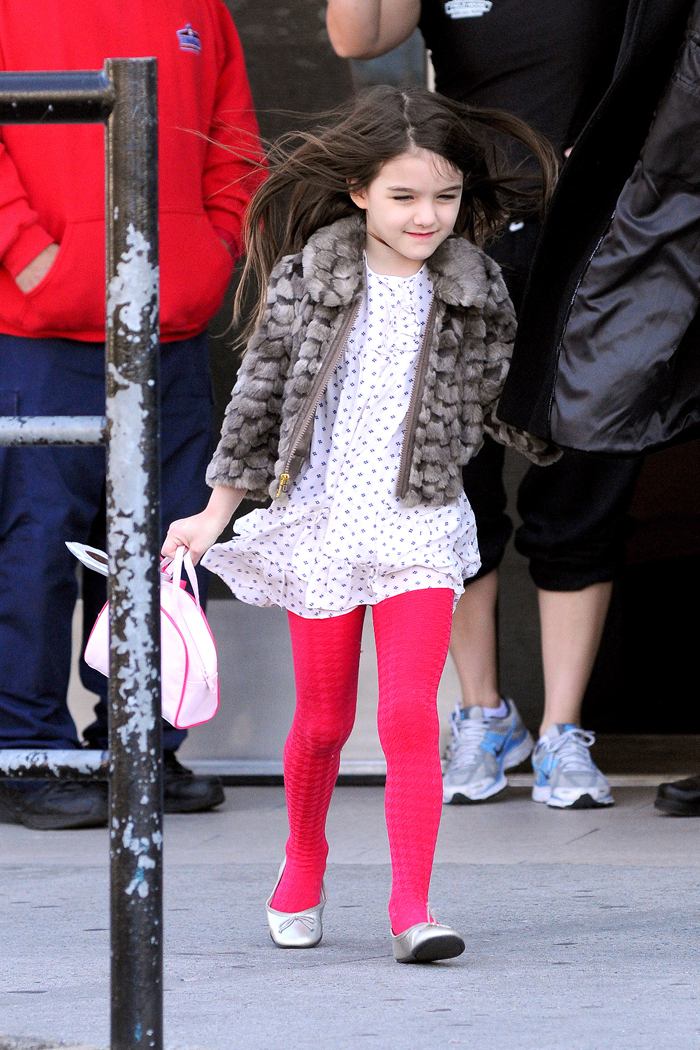 Suri Cruise is bringing out her very own fashion line – at just seven years old. The daughter of Tom Cruise and Katie Holmes has just inked — or maybe crayoned – a £1.5million deal and her label has been imaginatively named Suri.

The fashion-conscious schoolgirl, who regularly tops lists of most stylish celebrity child, will launch her first collection for young girls this autumn in a New York department store. If successful, the Suri brand will be rolled out in shops across North America next year.

A source said: "Suri is only seven but she is incredibly interested in clothes. She has been through a very difficult year and adapted amazingly to her new life in New York, including the upheaval of starting normal school.

"This is a nice hobby for her, it's certainly not going to take over her life. Most girls dream of being able to make their own clothes, this just means her drawings will now become a reality. It'll be interesting to see how it pans out, there's nothing around quite like it."

Given her age, Suri's rough sketches are likely to be similar to our one on the left. So you can understand why mum Katie and her stylist Jeanne Yang are also on board. The line will cover everything from dresses, tops and jeans to shoes and accessories. Plans for a fashion range have been in the pipeline since last year, after several firms approached Katie.

The initial idea was for Suri to have a fashion blog, but the concept was extended after she started to talk about special designs for her clothes.

The move is good news for her film star dad, Tom. If all goes well, Suri will be encouraged to bring out a boys' range – and that'll mean plenty of free clothes in his size.
[From The Sun]
Here's the thing — Suri doesn't need a piddling $1 million or so in US dollars, and it seems like Katie is doing everything possible to keep Suri in childhood mode while, you know, she's still a very young kid. Obviously, this story would sound fake even if Katie's rep hadn't issued a denial, and thank goodness there won't be a Holmes & Yang influence in the children's style department. Can you imagine what an utter mess that would turn out to be? If anything though, I do hope that Suri continues her fashionista ways (although she may grow out of it like my daughter, who used to love dresses but can't stand them as a tween) and eventually convinces her mother to forever give up those fug booties.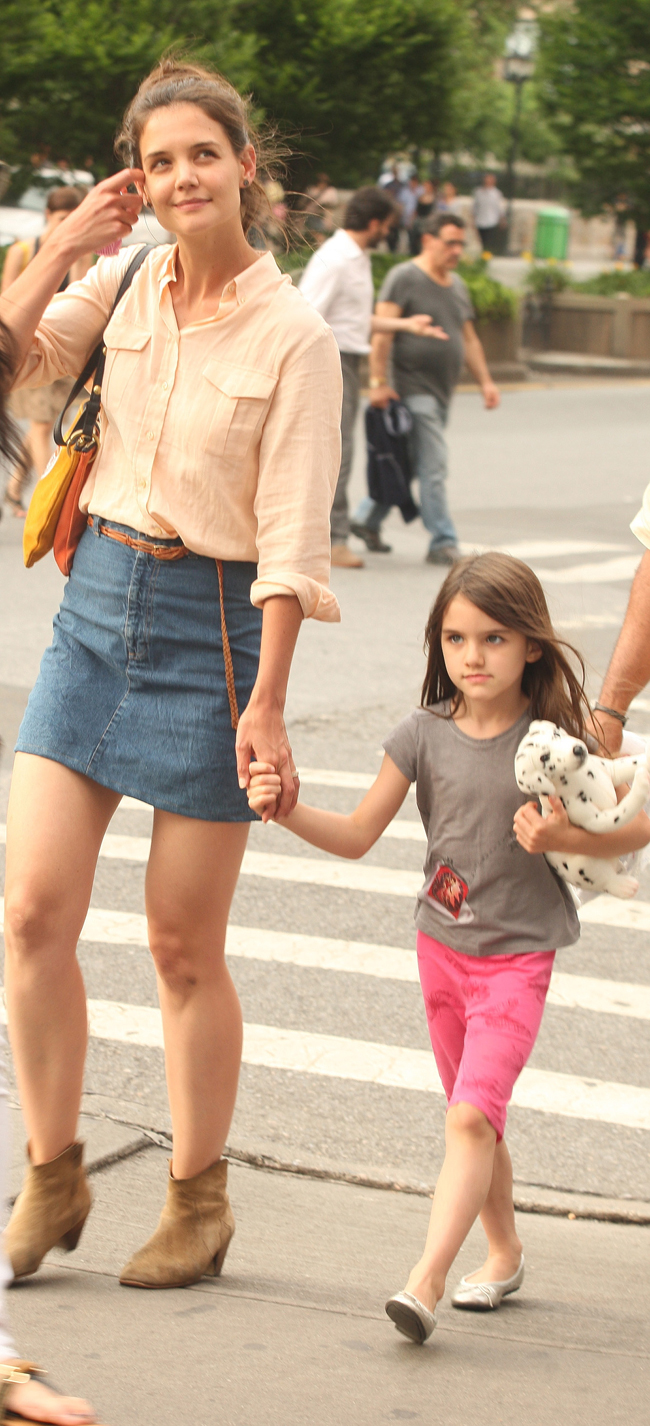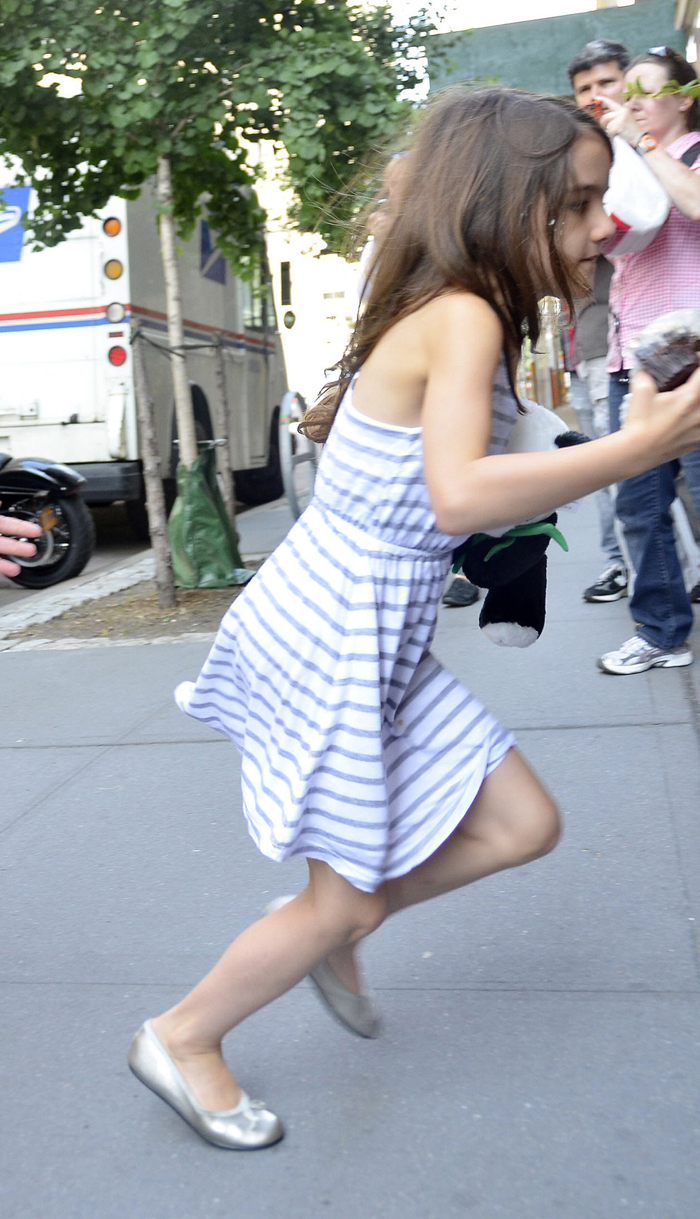 Photos courtesy of WENN
Posted in
Katie Holmes
,
Suri Cruise